Hey Tumblr friends! There's a great Recipe Comix column over at Saveur, check it out -> http://saveur.com/comix.jsp
The other week they put out a call for submissions, so I made one, but they won't answer my tweets or emails, so I put it up at my own site -> http://rct.me.ht/
Sorry I can't post it here, it's in a size format that won't work on Tumblr, something like 600px by 1950px.
Anyways, it's about sandwiches, comics, and me as a kid, and it's not too long, so if you feel like it, check it out. THE COMIC TOO SPICY FOR A FOOD MAG.
Instructional Comics #03, but I guess it's also Recipe Comics #04, "How To Have A Successful Life And While You're At It Make Some Two-Fruit Crisp."
Usually I do everything in GIMP, but I just set up ArtRage, so this is my first go at using it and it's *A*M*A*Z*I*N*G* to work with. Unless I need masks and filters and stuff, I might just do all my drawing in ArtRage now.
Edit: Sure, you *could* use fresh fruit in the recipe, but who's un-lazy enough to do that? Not me, that's who.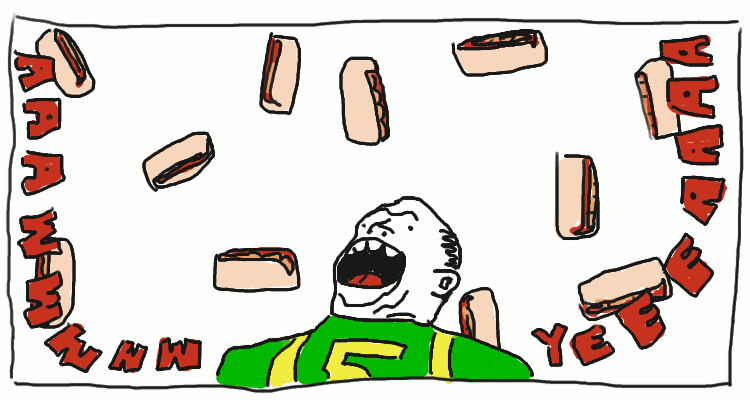 Recipe Comics! Also True Story Comics inasmuch as I've made this recipe before. Also, DAMN IT those animated panels are a pain in the ass to make! I like them when I'm done though. This comic is just in time for football season I think, though I don't know much about "sports." Still: are you ready to make some food for eating while watching FOOTBALL!!!
Also yes I know I messed up one frame of the animation, there's like a weird spot under the guy's neck. It's my hallmark! It wouldn't be a crashimation™ without one goof. Enjoy it, it is FREE OF CHARGE.
If you just moved out of your cave and this is the first thing you've ever seen on the web, here's the reference for the last panel.